General Description
Polyester is a kind of versatile, cost-effective and widely used Filter Media for liquid filtration. We use 100% pure PE fiber to produce a highly fluffy, three-dimensional, tortuous filter layer by needle punching. Its characteristic is that the fibrous structure is loose, and the high porosity increases the dirt holding capacity. This kind of fibrous material belongs to the filtration material which adopts double trapping filter mode, which can effectively remove solid and soft particles, that is, larger particles and impurities are trapped on the surface of the fiber, and fine particles are trapped in the deep layer of the filter material. This filter mode can ensure the filter cloth not to be damaged due to pressure increase during use, so it has a higher filtration efficiency. The special singed or glazed finish treatment can effectively prevent the fibers from being scoured and scattered by fluid or gas at high speed during filtration. This not only ensures the filtrate not to be contaminated by the detached fibers, but also avoids the excessive clogging and shortening of filter holes caused by traditional calendering treatment, thereby extends the filter bag life, at the same time the pressure difference is small without affecting the flow rate. Our company uses advanced equipment imported from Europe, and high-quality 100% raw materials, after 7 needle-punching processes, and then refined surface treatment, the PE needle-punched felt filter cloth that we produced is widely sold in domestic and foreign markets and has satisfied many customers in filtration industry.
Features
Good acid resistance.

Fair alkali resistance.

Good air permeability.

Working temperature: 90~110

℃

Good wear resistance.

Restricted resistance to oxidation.

Excellent resistance to hydrolysis.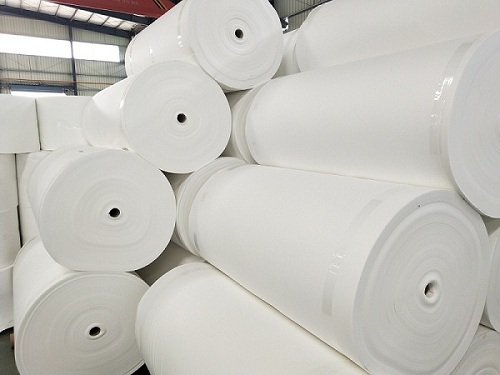 Specifications
Material/
Micron
weight
Thickness

(mm±0.1

)

Air Perm (L/dm

2

min@200PA ±15%)

Tensile Strength

(

N/5CM±15%)

Warp/Weft Tensile Elongation

(%)

Heat shrinkage rate

(

%

)

/At150

℃

Max.Operating Temp. Continuous/
Surge

(℃)

Finish Treatment
(g/m2

±5%

)
Warp
Weft
PE-1U
475
2.3
156
900/1200
<45/55
<1.0
130/150
One-side
singed
PE-5U
430
2.3
300
500/1000
<45/55
<1.0
130/150
PE-10U
360
2.2
400
500/900
<45/55
<1.0
130/150
PE-25U
360
2.4
600
500/900
<45/55
<1.0
130/150
PE-50U
360
2.6
800
500/950
<45/55
<1.0
130/150
PE-75U
360
2.5
900
400/800
<45/55
<1.0
130/150
PE-100U
360
2.9
1000
400/800
<45/55
<1.0
130/150
PE-150U
360
2.9
1300
400/700
<45/55
<1.0
130/150
PE-200U
360
3..0
1500
400/650
<45/55
<1.0
130/150
Applications