Activated Carbon special rotary drum drier Works

The material inside the rotary dryer has heat exchange with the high temperature flue gas through shell rotating and material lifting by lifter. The rotary dryer has many good characters like: high efficiency, big capacity, high running rate, saving energy, easy for maintenance, long working life. Variety angle of the lifter will increase the heating exchange rate and short drying time. That is widely used for drying lay, slag, fly ash & etc.

Adapt to the material
◎ chemical, mining, metallurgy and other industries large particles, dry material than the major, such as: mines, blast furnace slag, coal, metal powder, phosphate fertilizer, ammonium sulfate.
◎For the drying of powder and granular materials with special requirements, such as: HP foaming agent, distiller's grains, light calcium carbonate, activated clay, magnetic powder, graphite, and dregs.
◎Requires low-temperature drying, and large batches of continuous drying materials.

Performance characteristics
◎ Rotary dryer has a high degree of mechanization and a large production capacity.
◎ The resistance of the fluid through the cylinder is small and the function consumption is low.
◎ The adaptability to material properties is relatively strong.
◎ Stable operation, low operating cost, and good product drying uniformity.
Schematic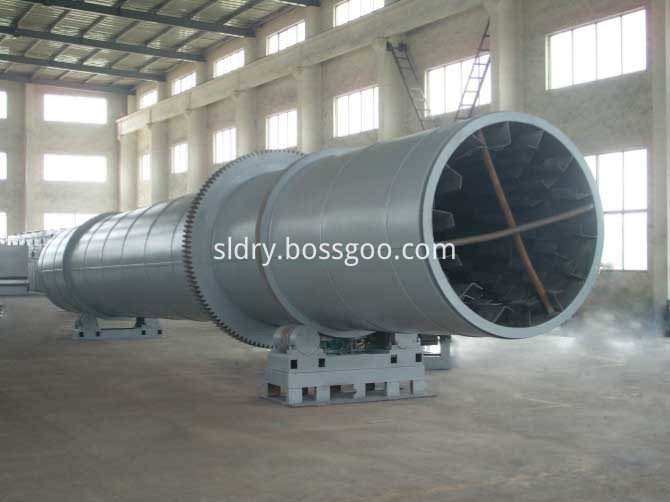 Technical specifications
model

Direct heating downstream

Direct heating downstream

Direct heating countercurrent

Direct heating countercurrent

Composite heating

Composite heating

Material type

ore

HP foaming agent

Blast furnace slag

Thiammonium

Phosphate fertilizer

coal

Processing capacity (kg/h)

1,000

466

15000

20000

12000

5000

Water content (%)

30

13

6

1.5

5

6.5

Final moisture content (%)

15

0.3

1

0.1

0.1

0.1

Average particle size (mm)

6.5

0.05

4.7

0.5-1.7

0.5

5

Material accumulation weight (kg/m 3 )

770

800

1890

1100

1500

750

Hot air volume (kg/h)

3900

5400

10750

9800

6500

16000

Inlet gas temperature ( oC)

600

165

500

180

650

570

Material outlet temperature ( o C)

42

100

70

80

75

heating method

gas

Steam heating

heavy oil

Coal hot stove

heavy oil

heavy oil

Loading factor

6.3

7

7.5

7.8

18

Speed (rpm)

4

4

3.5

3

4

2

Tilt

0.04

0.005

0.03

0.05

0.05

0.043

Copy board number

12

twenty four

12

twenty two

Inner cylinder outer 8




Inner cylinder outer 16

6 12

Dryer diameter (m)

2.0

1.5

2

2.3

Outer cylinder 2




inner cylinder 0.84

Outer cylinder 2.4




Inner cylinder 0.95

Dryer length (m)

20

12

17

15

10

16

Drive power (kw)

twenty two

7.5

15

11

11

15